DECEMBER 2020
A Short History of Lindapter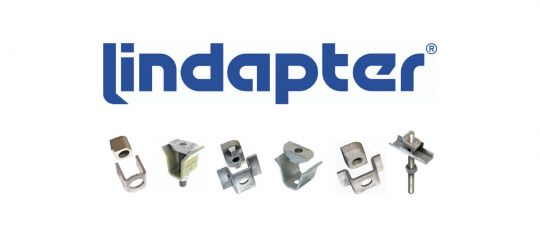 Lindapter are one of our key suppliers with many time and cost saving products that offer an alternative to onsite drilling or welding.
Founding Of Lindapter
First things first, you won't win any prizes for guessing that the name 'Lindapter' is a contraction of a surname and the word 'adapter'. Henry Lindsay was the owner of that surname, and he was an engineer working for Crofts (engineers) of Thornbury, Bradford, specialising in power transmission for woollen and cotton mills in Yorkshire and Lancashire. As is so often the case with important new inventions, Lindsay observed the difficulties involved in securing equipment to wrought iron or cast-iron structures in the mills and concluded there had to be an easier method than laboriously drilling holes, especially when the installation might only be temporary.
The Lindsay Bolt Adapter
Lindsay's idea was, like many of the best ideas, astonishingly simple and almost obvious, and yet had been overlooked up to 1934 when he set up Henry Lindsay Ltd. in Queen's Road, Bradford, with his wife Bertha and son Lawrence. The Lindsay, malleable iron hook-bolt adapter, turned an ordinary bolt into an effective clamp which could be securely fastened to iron beams allowing equipment to be attached securely without the need for time consuming and expensive drilling, and with the added benefit of being demountable. It didn't take long for the name Lindsay and the word adapter to be contracted into the portmanteau 'Lindapter'.
Development Of Lindapter And WWII
Patents were applied for and granted; the US patent 2,161,259 for a "hook adapter" was granted on June 6th, 1939. In September of the same year Britain declared war on Germany. With industry ramped up to the maximum possible output the demand for Lindapter products soared and the company was involved with a number of wartime projects including Bailey Bridges (portable prefabricated bridges used for speedy temporary river crossings), Mulberry Harbours (temporary portable harbour structures used in the Normandy Landings), and Operation PLUTO (Pipe-Lines Under The Ocean) which was intended to supply fuel to the Allied invasion force.
Lindapter Post War
Following World War II there was, of course, much to do. Restructuring for peacetime production and developing new products. A 1948 product catalogue proudly declared, "Lindsay bolt adapters magnify the vast utility of the ordinary bolt", adding "Designing simplified. Forging eliminated. Drilling avoided. Strength maintained. Erection expedited." It then went on in 52 pages to detail in part colour, the many products which Lindapter now produced to make the working lives of builders and engineers that much simpler.
Henry Lindsay had been born in 1873 so was already into his 70s by the end of the war. In 1954 he died, leaving the task of taking Lindapter forward towards the 21st century to his son Lawrence.
The company had initially kept up the power transmission side of the engineering business, capitalising on Henry's expertise built up over his years working for Crofts, however, as the Lindapter side of the operation grew it eclipsed the former.
Bringing The Lindapter Story Up To Date
The last half century has seen Lindapter move premises several times to accommodate their increasing range and production requirements and switching emphasis to working with steel rather than cast and wrought iron, however, one thing which has remained is their location in Henry Lindsay's hometown of Bradford.
Today's product range would run to rather more than the 52-page catalogue offered in 1948, with products being divided into groups such as Girder clamps, Hollo-bolts & Lindibolts, Decking fixings, Cavity fixings, Support fixings, Floor fixings, Rail fixings, and Lifting points. Lindapter, continue to innovate and develop their product range with two of the latest product launches being their Type AMD and Type COM decking fixings.
For more than 80 years Lindapter products have been used on a wide variety of major projects. Including the Eiffel Tower in France, the Halley V research Station on the Brunt Ice Shelf, in Antarctica, the 11th century Falkenburg Castle, in Germany, London's Tower Bridge, and the 73 story Wilshire Grand Center, in Los Angeles.
It's a pleasure to work with Lindapter, a British company with a respected reputation that has remained true to its roots, and yet can compete on the world stage, supplying some of the biggest projects around.
Lindapter Fixings
For details of the Lindapter products we can supply, contact our team on [email protected] or 01322 274226
View our Lindapter range: www.fixmart.co.uk/brand/lindapter
Related Products