JANUARY 2021
Decking Identification and Fixings - Quick Guide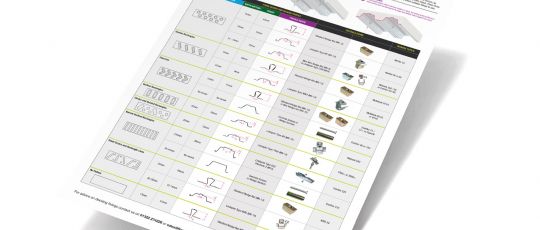 Our new simple one-page decking identification guide, highlights the three key pieces of information you need to easily identify the type of decking you are working with and the specific fixing required.
It's a common problem faced by MEP and HVAC contractors that they won't know the type of decking installed on site which they need to fix their building services too.
Many types of decking require specific fixings that have been designed for use with them, such as the specialised decking fixings produced by Lindapter. However, it's hard to source the correct fixing unless you know what type of decking you're working with! This is where our new handy guide comes in 😊
We've stripped away a lot of the detail on the decking types which you won't necessarily need, in order to make it quick and easy for you to identify a type of decking.
To identify a particular type of decking you need to combine three factors:
1. Profile Pattern
Check the pattern stamped on the inside of the decking profile. This will typically be a simple combination of symbols which is then repeated. These patterns have been designed by the manufactures to help identify their decking.
2. Fixing Recess Dimensions
The majority of decking types have a fixing recess with specific dimensions that the relevant fixing is designed to fit, in order to provide a secure fixing. Measure the width at the bottom of the fixing recess and if possible, its height too.
3. Profile Shape.
By looking at the profile as across section you can distinguish its shape. Is it wide or narrow, shallow or deep?
Armed with these three pieces of key information you can use our guide to help quickly identify the decking type and the suitable fixings to use.
Related Products
If you need further technical advice or wish to discuss your requirements simply contact our team on 01322 274226 or [email protected]
Useful Links