OCTOBER 2022
Clamps to Suit Common Pipe Types and Sizes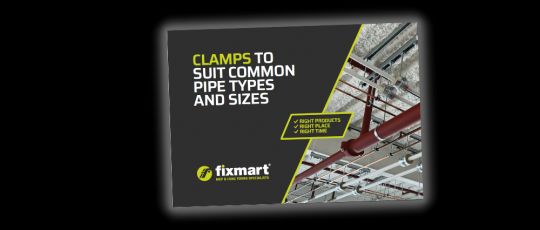 Our handy guide has been designed to quickly identify which of our pipe clamps are suitable for use with popular pipe sizes.
We've updated our previous Pipe Clamp Guide to include an even wider range of pipe clamps and pipe clips.
We are often asked for advice on which pipe clamp to order for certain pipes, so the guide has been produced with this in mind to give users all the information they need to order the right pipe clamp for their next pipework installation. Including imperial and metric, nominal bore (nb) and outside diameter (od) pipe sizes, along with the suggested clamp details, image and stock codes for easy ordering.
The guide covers clamps for steel pipe, clamps for imperial PVC waste pipe, clamps for copper pipe and clamps for metric PVC pipe.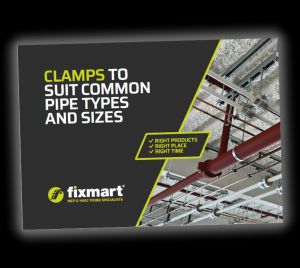 Types and Sizes of Pipe Covered:
Steel Pipes / Imperial Waste Pipes (sizes 10mm – 350mm)
Copper Pipes (sizes 10mm – 159mm)
Metric PVC Pipes (sizes 16mm – 160mm)
Related Products
Here are just a few of the types of clamps covered in the guide:
Unlined Pipe Clamps
Heavy Duty Unlined Pipe Clamps
Black Rubber Lined Pipe Clamps
Heavy Duty Black Rubber Lined Pipe Clamps
Green Rubber Lined Pipe Clamps
Split Band Pipe Clamps
Black Munsen Rings
Brass Munsen Rings
Standard Leg U Bolts
Extended Leg U Bolts
Sprinkler Clamps
Saddle Clamps
Gripple Universal Pipe Clamps
Talon Style Pipe Clips
Channel Pipe Clamps
Channel Pipe Clips
Studding Pipe Clips
Although very comprehensive it wasn't possible to include our full range of pipe clamps in the guide. So, if you don't see what you need, please contact Sales on 01322 643381 or [email protected] to discuss your specific requirements.
Alternatively, you can view our range of pipe supports here.