JULY 2016
Did You Know We Can Offer Branded PPE?
Find out more about the branded PPE we can offer, such as the recent order of 60 Hi-Vis vests from Acumen Projects Ltd (M&E Contractor – Nottingham).
On request Fixmart can provide bespoke PPE printing onto Hi-Vis Vests, Hard Hats and other work related clothing with your logo, job titles or generic identifiers such as Staff and Visitor. We can print just in black or full colour, working with logo's of different sizes and shapes.
Fixmart recently printed 60 Hi-Vis vests for Acumen Projects Ltd (M&E Contractor – Nottingham) including 25 with an additional Supervisor identifier.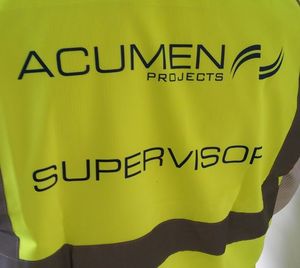 Free Artwork Service
Our free digital artwork service allows us to create your order in exact detail and proportion from your supplied artwork (PDF or JPG of your logo).
We can even create artwork from a physical sample (such as a business card or letterhead). We can colour match against set pantones or the sample supplied.
Expected Timeframes for Branded PPE Printing
The timeframe to provide a proof for sign off depends upon the type required. For electronic proofs these should be ready to email to you within 24hrs, for hard copy proofs up to 4 days should be allowed for postage. Once artwork has been signed off we can keep it on file to use with any future orders.
Our standard Hi-Vis Vest and Hard Hat print option will take approximately 4 days for you to receive your completed order after the artwork is signed off. Other options such as reflective badges or clear pockets for ID badges are available.
As this is a bespoke service please contact our Sales team on 01322 274226 or email [email protected] for a quote to meet your exact requirements.