NOVEMBER 2017
MAKE SURE PREFABRICATION IS A SOLUTION, NOT A PROBLEM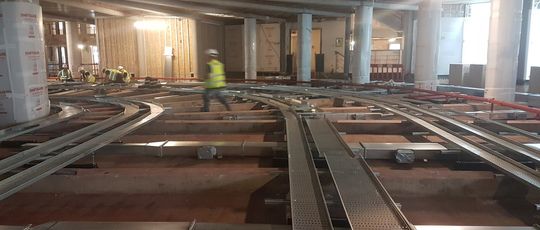 We look at the challenges, benefits and the solutions to making prefabrication a success on projects.
In recent years, we have seen a big increase in the use of prefabrication in the construction industry. In fact, it was revealed at the beginning of September 2017 that construction giant Lendlease had picked an offsite specialist to assist with the prefabricated design of Google's new Headquarters in London. With increasing costs and time pressures and a continuing skills shortage, many companies see prefabrication as a potential solution to these problems.
According to the HVAC body BESA, offsite construction is now used in 90% of UK projects and accounts for 3-4% of the total construction market. With leading companies such as Google and Crossrail choosing to use it in their landmark projects, we can expect these numbers to continue to rise. However, whilst there are obvious benefits, when we talk to our clients many have concerns that pre-building large parts of projects offsite could result in sizing errors, a reduction in quality and can make deliveries even more complex than they already are. As a key supplier to the industry we are keen to help address these concerns and enable our customers to gain maximum competitive advantage from this new trend.
Challenges
There are valid concerns within the industry about using prefabricated components in a project. The first is the inability to react to unexpected changes during the installation process. It is impossible to fully predict what can happen on a fast-moving construction site. Normally, workers will adapt to challenges, such as unforeseen obstacles, as they occur. However, if the component is assembled offsite and then a problem arises, the sub-contractor would either have to return it and wait for a replacement, or attempt to fix it themselves. This can cause an unwanted delay on the project and possibly result in huge fines for the sub-contractor.
Another key consideration is pre-assembled components are much larger and can therefore be more complex to transport. This can be a concern with increasingly strict delivery restrictions and specific rules that companies making deliveries must abide by, before being allowed on site. Companies have to be FORS accredited, ensure products are securely packaged and meet health & safety regulations. It's imperative that suppliers and their delivery services are aware of these regulations and take steps to avoid a failed delivery.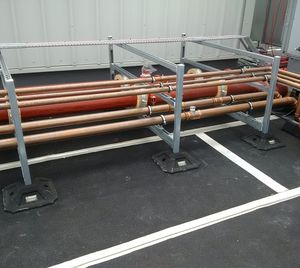 Benefits
However, there are a number of benefits for using prefabrication on a project. One of the biggest is cost saving as it requires fewer people, takes less time, and potentially reduces risk of delays. As prefabricated components are assembled offsite and delivered ready to install, there are likely to be fewer deliveries required, so although their delivery can be more complex, it can also prove simpler than having multiple deliveries.
It is no secret that there is a skills shortage in the construction industry. Large numbers of Eastern European workers have returned home, partly due to the weaker pound, but also because of the uncertainty surrounding Brexit. This, combined with fewer young people choosing plumbing and other manual jobs as careers, has resulted in a dramatic decrease in the number of skilled workers. However, utilising prefabrication simplifies the installation process as workers only need to fit the component rather than cut it to size. As a result, not only does it reduce the amount of labour needed on a job, but also the time it takes to install.
In addition, some argue that it improves the quality of the components being used as they are being measured and fitted in a controlled environment. This reduces the risk of delays due to faulty or ill-fitting products. As many sub-contractors operating on sites are working to very strict margins and timeframes, the slightest delay can be the difference between a loss and profit on a project. Utilising prefabrication can provide developers and sub-contractors with peace of mind.
Solution
As a supplier, we are able to do a number of things that will help our clients embrace prefabrication and use it to their advantage. At Fixmart, we offer a number of bespoke solutions which are designed to help our customers save time and labour on site. This includes pre-cutting channel and studding to our client's exact requirements and assembling products, such as our Step Over Walkways, frames and supports, in our warehouse before they are delivered to site. We have also specially modified our delivery vehicles to enable us to deliver larger and longer products.
In my opinion, it is important to build trust with your clients by ensuring every product you provide is of a high quality and fit for purpose. I would also advise finding a supplier that offers flexible delivery solutions, such as timed delivery slots, as well as one that understands the complexities of delivery regulations.
With the big names beginning to embrace and explore prefabricated construction it is only a matter of time that it becomes the norm on projects across the UK. Yes, it is a natural solution to the many issues facing the construction industry today however, there are a number challenges it brings. As a leading supplier to the industry who understands the difficulties of prefabrication, we are committed to providing flexible solutions that will help our clients overcome them.
For more details on prefabrication contact our team: [email protected] or 01322 274226.