NOVEMBER 2019
Protective Glove Standards EN 388:2016 Guide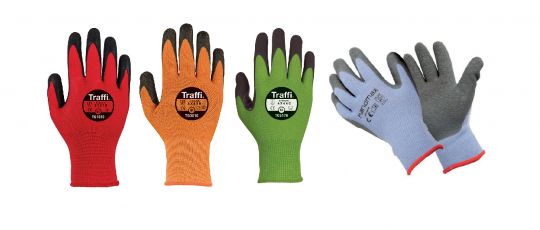 We often have queries regarding the differences between the EN 388:2003 and EN 388:2016 standards.
There has been a long transition period but many manufacturer's have now adopted and applied the new standards. Here we cover the main updates from the EN 388:2003 to EN 388:2016 standards.
The EN 388:2016 standard for protective gloves covers; abrasion, blade cuts, tearing, puncture and impact. The level of protection is now shown as a combination of up to six numbers and letters under a pictogram (see example below).
The first 4 positions will be numbers the same as the previous EN 388:2003 standard.
Now in 5th position will be the new ISO TDM cut result (represented by a letter).
A 'P' will be shown in 6th position, if the optional impact protection test has been passed.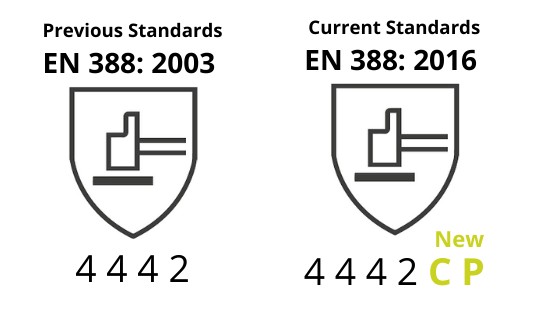 | | | |
| --- | --- | --- |
| Position on Glove | Test Undertaken | Possible Rating |
| 1. | Abrasion | 0-4 |
| 2. | Cut (Coup Test) | 0-5 |
| 3. | Tear | 0-4 |
| 4. | Puncture | 0-4 |
| 5. | Cut (TDM-100 Test) | A-F |
| 6. | Impact Protection | P |
If a test isn't applicable then a X may be displayed instead of a rating.
Other Differences:
EN 388:2016 uses a new type of abrasive paper. Due to this change, some abrasion levels of protective gloves may change when tested to the updated standard.
EN 388:2016 addresses flaws in the previous cut test methodology.
Cut (TDM-100 Test)
The new EN ISO13997 Cut TDM-100 Test improves the accuracy of cut performance data. For gloves that achieve a rating higher than 'A' under the new standards you may see an 'X' displayed for the Cut (Coup Test) as this test isn't typically applicable for gloves achieving a rating between 'B and F'.
Gloves that achieve a 'B to F' rating in the TDM test will generally have returned a result in the the Coup test where the test blade becomes blunted. Hence the TDM result provides a more accurate measurement and superceds the Coup test result.
When buying gloves the new 'A-F' rating should be referenced but a direct comparisons to the old 1-5 cut levels can be difficult. For example under the new ISO13997 test, gloves previously rated as cut level 5 from EN 388:2003, could now be classified as a level 'C/D' or in some cases even a 'B'. However as glove manufacturers apply the new standards remember that if a type of glove met your needs before, its performance hasn't changed, but only the method of testing.
Cut (TDM-100 Test) Summary of A-F Rating
| | | | |
| --- | --- | --- | --- |
| | Performance Level Rating | Cut Resistance (Newton) | Suggested Applications |
| Low Cut Protection Level | A | >2 | Light material handling, small parts assembly, light duty general purpose |
| Medium Cut Protection Level | B | >5 | Packaging, white goods manufacturing, warehousing / logistics |
| High Cut Level Protection | C | >10 | Metal handling, light assembly, maintenance works |
| High Cut Level Protection | D | >15 | Electrical installation & assembly, automotive assembly, engineering, utilities |
| Extra High Cut Level Protection | E | >22 | Metal stamping & fabrication, glass manufacturing, automotive assembly, food processing, waste management |
| Extra High Cut Level Protection | F | >30 | Heavy metal handling & stamping, pulp & paper, waste management, recycling, glass handling |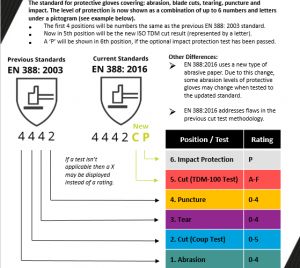 For further information on EN 388:2016 standards Download our simple three-page guide which outlines:
The main differences between the EN 388:2003 and EN 388:2016 standards
Each test undertaken and its criteria for each rating
A focus on the new Cut (TDM-100 Test) and its updated A-F cut ratings
For further advice on protective glove standards EN 388:2016 contact our Sales Team on 01322 274226 or [email protected].