MARCH 2022
Roof Frames & Mounting Support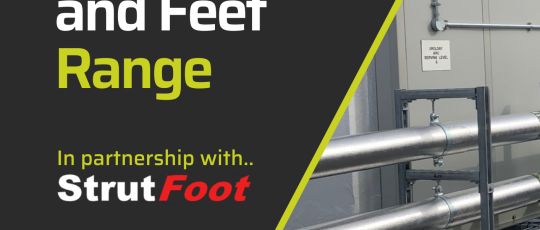 We've partnered with StrutFoot to bring you our brand-new Roof Frames & Feet Range Brochure, made specifically to help you find the best roof frames and mounting solutions for your current and future projects.
StrutFoot
In our new StrutFoot Brochure, we cover a range of StrutFoot products that we sell from stock or to order. StrutFoot offer supports for HVAC equipment, cable management and mechanical services without the need to penetrate the roof membrane. StrutFoot pride themselves in being the only UK manufacturer to offer design and manufacture of these products totally in-house.
StrutFoot is an ISO 9001 and a 14001 accredited company and a CE 1090 accredited company.
How we work with StrutFoot
As one of the key suppliers for us here at Fixmart, StrutFoot offer a wide range of products ideal for roof-top installations, from straightforward H-frame kits to heavy duty support frames.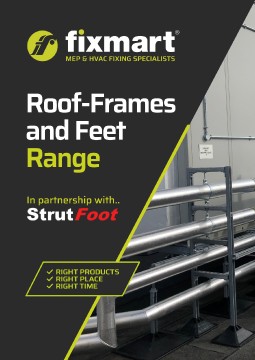 If you have a project approaching where you are unsure about the products you might need, simply contact us and we can advise from off the shelf to bespoke solutions. If you require a bespoke solution, simply give us the weight and dimensions of your AHU and we'll work with StrutFoot to first design and then supply a frame solution to meet your specific requirements. Any design work and site surveys will be carried out by StrutFoot's experienced engineers.
We can also provide flexible rooftop access solutions that are designed to current British Standards. Step overs and walkways provide service engineers and other personnel with safe and easy access across installed services.
To check out the StrutFoot range, simply download our Roof-Frames and Feet Range Brochure.
Click here!
Related Products
Fixmart Roof & Mounting Range
We understand when installing rooftop HVAC and M&E systems you need to be able to support everything securely, safely, and quickly. From frames, mounts and pads, we've got you covered, as in addition to StrutFoot we work with a number of other suppliers too.
Check out our range here
.
From enquiry to installation, we can provide a tailored service to meet your rooftop frame requirements. For advice contact our sales team on
01322 274226
or
[email protected]
.