JUNE 2019
Unistrut channel support solutions for building services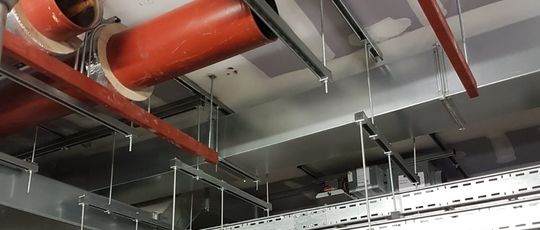 Unistrut offer channel in various sizes, types and finishes along with brackets and fixings which can be combined to create your required support system.
Anyone working in the construction industry today can hardly be unaware of channel support systems and most will be aware of the original brand, Unistrut which is the market leader in channel support. Unistrut offer channel in various sizes, types and finishes along with brackets and fixings which can be combined to create your required support system. The primary application for this type of strutwork is providing a support structure for M&E and HVAC building services such as carrying ducting, pipework, electrical cabling, or data wiring.
See our site visits page for some example channel supports and frames that have been used to install building services.
Support frames and brackets for suspending building services from ceilings and walls
Channel support systems can be constructed and fixed along ceilings or walls to carry cabling, pipework, ducting or other building services to keep them safely out of the way for aesthetic and practical reasons. There are a wide variety of fixings for anchoring the channel to any materials such as concrete, metal decking, drywall etc. with an assortment of channel brackets to permit any required configuration.
Single tiered support frames
A simple single tier channel support system can be constructed with Unistrut channels connected with the appropriate Unistrut brackets and fixed using studding or wire suspension in order to support cable containment, pipework, or ducting.
Multi-tiered support frames
Multi-tiered support frames are ideal if you wish to run several building services from the same installation ie placing ductwork below / alongside electrical containment. The beauty of channel systems is the flexibility and reconfigurability whether you are building a multi-tiered support structure straight off or adding to an existing support system. If existing Unistrut channels are in place you may wish to continue with using Unistrut channel, brackets and fixings, although most channel brands are designed to be Unistrut compatible.
Rooftop frames for supporting building services
Channel, brackets and fixings can be combined with support feet to create rooftop frames for carrying a series of mechanical and electrical containment, plus mounting air handling units on flat roofs. Frames can consist of just several lengths of strut a couple of brackets and support feet to create simple H-frames to more complex designs for supporting heavier loads. Choosing hot-dip galvanised, or stainless steel will provide lasting corrosion proofing in even the most hostile environments and keep maintenance to a minimum. With space at a premium for new building projects it can often make sense to use the roof-top to store HVAC and M&E equipment. Although you will need to consider vibration reduction, and access, products such as mounting pads, and step overs are available to complete your roof-top support installation.
Unistrut Channel Support Products
In order to create your required support frame solutions Unistrut have a wide range of channel, brackets and fixings to choose from.
Channel struts come in a wide range of lengths and profiles, but the standard size has a profile of 41mm x 41mm which stems from a historic compatibility issue when the system was first invented around a century ago. The next most common sizes are 41mm x 21mm and 41mm x 62mm as well as back to back version of these. There are many more type or lengths available, with some suppliers providing a channel cutting service for bespoke lengths.
Brackets come in many types and sizes, for example angled brackets have many configurations, including adjustable angles, allowing more or less any set-up of channel struts that an installer can conceive to be assembled.
Any channel support system is held together by its fixings such stud, bolts, square plates and specially designed channel nuts. From the original Unistrut fixings, to the present day, channel nuts have a unique design to allow them to easily be inserted into channel and grip its edges to provide a firm fixing.
Finishes
Depending on where and how the channel will be used, there are several different finishes available. The regular finish is pre-galvanised steel which although offers a high degree of protection, hot-dip galvanised is superior because the galvanising is done to the finished strut, fixing, or bracket. Stainless steel is even better and should be considered where there will be high exposure to the elements, or extremes of temperature, or where the installation will not be easy to access to maintain once in place or where a certain aesthetic quality finish is required. So, with a number of options for finishes available it is worth considering the requirements for your project.
Unistrut compatibility
Having talked a fair bit about Unistrut channels, it is important to remember that most other channel products are designed to be compatible with the market leader. In certain applications particularly where Unistrut is not already specified, it may be economically prudent to choose another compatible brand of channel.
Related Products