FEBRUARY 2020
Fastener Materials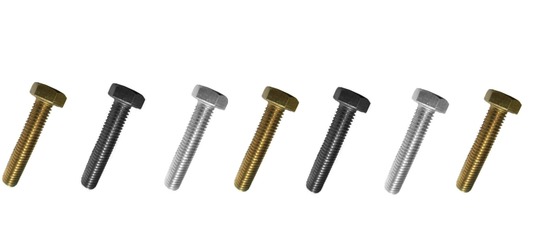 Fixings and Fasteners are made from more types of materials than you might think. There is a wide variety of different finishes available depending on their use and the environment they will be installed in.
There are many reasons to chose a particular material or finish from the aesthetic look, strength, corrosion resistance, conductivity, antivibration and magnetism to name just a few. Below we cover the more frequently encountered types of materials and finishes with a short description of the benefits for each.
BRIGHT ZINC PLATED (BZP)
Bright Zinc Plated steel provides moderate corrosion resistance but will not prevent rusting or oxidising in an outdoor environment. It is silver in colour being somewhat shiny in appearance. Steel is a good material for strength and commonly used for bolts, nuts and washers.

---
STAINLESS STEEL
An excellent finish for resisting corrosion and therefore suitable for fixings in an outdoor environment. Also available in a marine grade with extra corrosion resistance which makes it suitable for use in surgical proceedures and underwater intallations.

---
BRASS
Used in electrical, heating and plumbing industries, brass has a high thermal conductivity and corrosion resistance and is ideal for exterior use. It is also used for fasteners in decorative applications particularly when used in wood such as furniture and door fittings.

---
HOT DIP GALVANISING (HDG)
Hot Dip Galvanising is a thicker zinc coating giving good long term corrosion protection and can be used outdoors. The finish is a dull matt grey. Fasteners with this coating are generally bolts, nuts, washers and anchoring fasteners.

---
ZINC AND YELLOW PASSIVATED (ZYP)
Zinc and Yellow Passivated is an electroplated finish that is yellow in colour giving some extra corrosion protection over against bright zinc. Mainly used for screws and anchoring fasteners.

---
CHROME
A smooth shiny silver polished coating used for decorative purpose or to ease cleaning and provide corrosion resistance. Screws and dome covers to conceal screw heads are common examples of this coating.

---
NICKEL-PLATED STEEL
Nickel plating involves adding a thin layer of nickel onto the base material. Used to provide wear and corrosion resistance or for decorative purposes. The coating is widely used in electronic components and machine parts such as springs.
---
ELECTRO ZINC
This form of plating applies a thin layer of zinc to metal parts. Its process uses a current of electricity to deposit the zinc. It is a thinner coating than hot dip galvanizing and not for outdoor use.

---
ALUMINIUM
A lightweight material that is corrosion resistant and may be used as an alloy to increase its strength. Commonly used as a material for rivets, which can be used for joining plastic and wood as well as sheet metal.

---
NYLON
Tough and lightweight with good anti-vibration properties and giving a high amount of insulation and corrosion resistance, nylon is often used in the electronics industry. Washers are among the fasteners available in nylon.

---
PHOSPHOR BRONZE
An alloy of copper and tin with phosphorus which increases corrosion and wear resistance. Primarily used for electrical products and has high elasticity and hence high fatigue resistance.

Related Products