SEPTEMBER 2017
FIXMART LAUNCHES NEW ON-SITE SOLUTION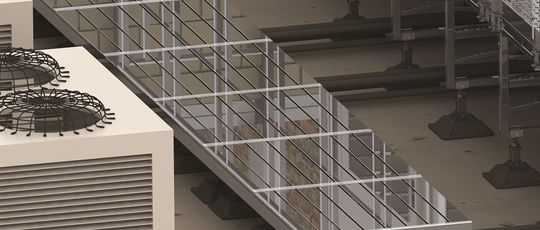 We now offer bespoke Step Over and Walkways systems that provide easy navigation over rooftop obstacles.They are quick to install and meet H&S standards.
As a leading supplier to the construction, M&E and HVAC sectors, we have partnered with CADDY PYRAMID to develop a bespoke solution that promotes efficient navigation over rooftop obstacles, meets health and safety standards and significantly reduces labour time spent on installation. Fixmart will now offer dedicated site visits to potential customers interested in the manufacturer's Step Over and Walkways systems, so we can better understand the exact requirements of a project ahead of the design and build of the product.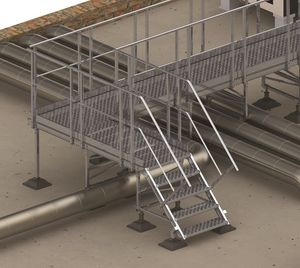 We have a five-year relationship with CADDY, a brand of leading global manufacturer Pentair, and already carries a range of its products. The Step Over and Walkways systems are the latest to join the portfolio and they provide service engineers and other personnel with safe and comfortable access over rooftop obstacles such as pipes, ducts and cable trays.
As part of this latest agreement, the two companies will conduct joint site visits so CADDY'S engineers can see first hand the potential location of any installation. This will provide them with a clear and precise brief ahead of the design stage, including any necessary calculations required in relation to load or wind. The visits will also allow prospective clients to learn more about the capabilities of the modular solution, which helps workers save time and labour on-site, but also to meet standard NEN-EN-ISO 14122-3.
Lee Gillard, Sales Engineer at CADDY, said: "We have worked with Fixmart for many years and we are pleased they have added our Step Over and Walkways systems to their portfolio. Fixmart understands the importance of these products and the difference they can make on site. This joined-up approach will hugely benefit the end customer, ensuring they get a world-class product that is completely fit for purpose."
Carl Ghinn, Managing Director at Fixmart, said: "By partnering with CADDY we can offer a bespoke modular solution that provides full assurance of load calculations and specification, whilst being able to maintain very fast supply and installation. As a company that takes great pride in delivering exceptional customer service, we are looking forward to visiting more potential clients to better understand their needs. These walkways, combined with our eco-feet range, provide our clients with a safe and easy to assemble solution."
For further information contact: [email protected] or call 01322 274226