DECEMBER 2021
Free £20 Amazon or Costa Voucher for December Orders Over £1500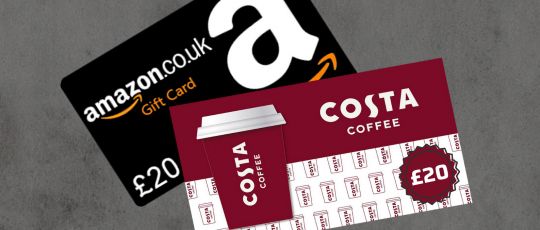 To claim your £20 Voucher simply place an order over £1,500 (exclusive of VAT) in December.
We have an exciting new promotional offer this December to say thank you to our loyal Fixmart customers.
We're giving away £20 Amazon or Costa Coffee e-vouchers with every order over £1500 (exclusive of VAT). So, what are you waiting for, place a qualifying order today and request your preferred voucher! You can then choose to treat your staff, or simply put it towards your Christmas shopping…
Please note we'll be ordering the vouchers in batches, so it may take a few days before the e-voucher is emailed to the person that placed the qualifying order.
Terms and Conditions Apply:
1. One £20 e-voucher available per customer for each qualifying order over £1,500 (exclusive of VAT).
2. Valid for orders placed between the 1st to 23rd December which are over £1,500 (exclusive of VAT).
3. If the advertised e-voucher isn't available, then an equal equivalent will be provided.
4. The chosen £20 e-voucher will be sent for the attention of the person placing the qualifying order.
5. We shall choose a voucher at our discretion if a preferred e-voucher is not stipulated.
6. This offer can not be used in conjuction with similar offers with Fixmart.
7. VAT will be accounted for at the time the voucher is redeemed and is the responsibility of the redeemer.
8. We reserve the right to withdraw the offer at any time.