NOVEMBER 2021
Important Dates: Advanced Notice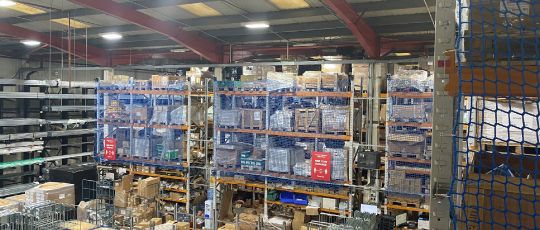 Please be aware that we will be operating a little differently over the holiday season this year, and here's why.
As we approach the festive period, construction sites will begin to close for the holiday season, so we're taking this opportunity to get ourselves ready for the new year. Therefore, we are notifying customers that we will be undertaking an extensive stock take in the lead up to Christmas. What does this mean for you? Well, you can continue to place orders up to the 23rd of December, but the last day to place an order for delivery this year will be Friday December 17th, with deliveries made on Monday, December 20th.
Orders placed on or between the 20th and 23rd December will be delivered on Wednesday the 5th of January. Although if your order is for delivery to a London* postcode you can request delivery for Tuesday the 4th of January.
We apologise for any inconvenience this may cause. However, we hope you understand that with current market pressures it's imperative that our stock figures are accurate, in order to provide the great service you expect.
Summary of Key Dates:
Friday 17th December
Last day for placing orders to be delivered this year and collections.

Monday 20th December - Thursday 23rd December

Place orders for delivery in January.

Collection Point closed.

24th December – 3rd January
Closed
Tuesday 4th January
Place orders for next day delivery, requested deliveries to London* and collections open.
Wednesday 5th January
First day for deliveries outside of London postcodes.
*London Postcodes Eligible for Requested Delivery on the 4th of January:
BR1, BR2, BR3, BR4, BR5, BR6, BR7, BR8
CR0, CR1, CR2, CR3, CR4, CR5, CR6, CR7, CR8,
DA1, DA10, DA11, DA12, DA13, DA14, DA15, DA16, DA17, DA18, DA2, DA3, DA4, DA5, DA6, DA7, DA8, DA9
E1, E4, E10, E11, E12, E13, E14, E15, E16, E1W, E2, E20, E3, E5, E6, E7, E8, E9
E17, E18, EN1, EN10, EN2, EN3, EN4, EN5, EN6, EN7, EN8, EN9
EC1A, EC1M, EC1N, EC1R, EC1V, EC1Y, EC2A, EC2M, EC2N, EC2R, EC2V, EC2Y, EC3A, EC3M, EC3N, EC3R, EC3V, EC4A, EC4M, EC4N, EC4R, EC4V, EC4Y
GU21, GU22, GU23, GU2, GU25
HA0, HA1, HA2, HA3, HA4, HA5, HA6, HA7, HA8, HA9
IG1, IG11, IG2, IG3, IG4, IG6, IG10, IG5, IG7, IG8, IG9
KT1, KT10, KT11, KT12, KT13, KT14, KT15, KT16, KT17, KT18, KT19, KT2, KT20, KT21, KT22, KT3, KT4, KT5, KT6, KT7, KT8, KT9
ME1, ME10, ME14, ME15, ME16, ME18, ME19, ME2, ME20, ME3, ME4, ME5, ME6, ME7, ME8, ME9
N1, N10, N11, N12, N13, N14, N15, N16, N17, N18, N19, N1C, N2, N20, N21, N22, N3, N4, N5, N6, N7, N8, N9
NW1, NW10, NW11, NW2, NW3, NW4, NW5, NW6, NW7, NW8, NW9
RH1, RH2, RH3, RH4, RH8, RH9
RM1, RM10, RM11, RM12, RM13, RM14, RM15, RM19, RM2, RM20, RM5, RM6, RM7, RM8, RM9
SE1, SE10 SE11 SE12, SE13, SE14, SE15, SE16, SE17, SE18, SE2, SE22, SE23, SE28, SE3, SE4, SE5, SE6, SE7, SE8, SE9
SE19, SE20, SE21, SE24, SE25, SE26, SE27
SL0, SL1, SL2, SL3, SL4, SL5
SM1, SM2, SM3, SM4, SM5, SM6, SM7
SW10, SW11, SW12, SW13, SW14, SW15, SW16, SW17, SW18, SW19, SW2, SW20, SW3, SW4, SW5, SW6, SW7, SW8, SW9, SW1A, SW1E, SW1H, SW1P, SW1V, SW1W, SW1X, SW1Y
TN13, TN14, TN15, TN16
TW1, TW10, TW11, TW12, TW13, TW14, TW15, TW16, TW17, TW18, TW19, TW2, TW20, TW3, TW4, TW5, TW6, TW7 TW8, TW9
UB1, UB10, UB11, UB2, UB3, UB4, UB5, UB6, UB7, UB8, UB9
W1, W2, W10, W11, W12, W13, W14, W3, W4, W5, W6, W7, W8, W9, W1B, W1C, W1D, W1F, W1G, W1H, W1J, W1K, W1S, W1T, W1U, W1W
WC1A, WC1B, WC1E, WC1H, WC1N, WC1R, WC1V, WC1X, WC2A, WC2B, WC2E, WC2H, WC2N, WC2R,
WD17, WD18, WD19, WD23, WD24, WD25, WD3, WD4, WD5, WD6, WD7
If you would like any further information as to how this may impact you, or if you would like to discuss your planned orders with us in advance, please contact our sales team on 01322 274226 or via [email protected]