JANUARY 2018
Handy guide to identify the pipe clamps to suit common pipe sizes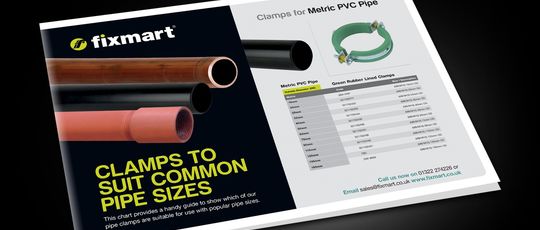 Want to know which Pipe Clamps / Clips will suit the pipework you're installing? Download our handy guide to find out.
We are frequently asked which pipe clamps should be ordered for certain pipes. Which is why we've created a simple guide covering common types and sizes of pipes to highlight the clamps to suit. To allow for easy ordering we've also included the relevant stock codes so you'll have all the information you need to get the right pipe clamps for your pipe installation.
The guide is laid out in 3 simple sections with each one covering a specific type of pipe. For each type of pipe covered we provide the relevant metric and imperial sizes typically used to identify the pipe size (ie Outer Diameter and Nominal Bore). Then for each of the pipe sizes we show the type of clamps that can be used including an image, description and stock code.
Although very comprehensive it wasn't possible to include our full range of pipe clamps in the guide and keep it easy to follow. So, if you don't see what you need please contact Sales on 01322 274226 or [email protected] to discuss your specific requirements.
Alternatively you can view our range of pipe supports here.