MARCH 2021
Have You Been Asked to Use Rockwool Blocks, When Installing Pipework?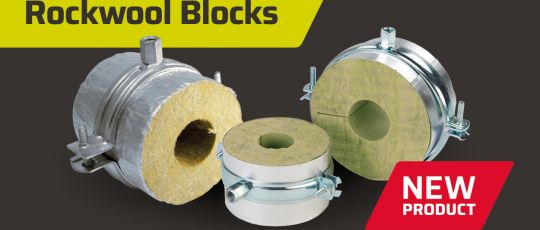 If not, you maybe soon! We've recently noticed that more and more projects are now specifying Rockwool Blocks to be used instead of the traditional Phenolic or Hardwood Blocks.
Which is why we're pleased to announce the launch of our new Rockwool Block range to support our M&E and HVAC customers.
What Are Rockwool Blocks?
Rockwool blocks are insulated pipe supports designed to improve energy efficiency. The effective insulation they provide, helps prevents thermal bridging and heat loss or gain to the pipework through the pipe support bracket.
They can be used to support and insulate a wide range of pipework such as Low Temperature Hot Water (LTHW) and Chilled Water (CHW) systems.
What's so Special About Rockwool Blocks?
The biggest benefit of using Rockwool Blocks over Phenolic and Hardwood Blocks is their suitability for use with pipework temperatures up to 250°C and their superior fire classification.

Rockwool Pipe Support Blocks are manufactured from high density mineral wool that is non-combustible and has a high load bearing capacity. So, Rockwool's recent introduction of these insulated pipe support blocks adds a new dimension to the pipe support market and are a welcome addition to the existing Phenolic and Hardwood Blocks on the market.
Main Benefits of Rockwool Blocks:
Superior fire classification as manufactured from non-combustible stone wool.
Energy efficient – minimising thermal bridging.
Foil faced to maintain vapour control.
High point load resistance and effective load bearing capability.
Robust and lightweight suitable for handling on site.
Rockwool Block Technical Details:
Rockwool Pipe Support Blocks are pre-formed and pre-cut into cylindrical sections with a foil facing finish to provide an integral vapour barrier.
Reaction to fire: Non-combustible stone wool.
Service temperature: Stone wool: 0-250°C Aluminium foil: ≤ 80°C.
Specific heat: 0.84 KJ/KgK.
Water vapour diffusion resistance:(µ)>10,000.
Are Rockwool Blocks Easy to Install?
Yes, they are very easy to install. Simply open the pre-cut block and place around the pipe, then seal in place with the aluminium foil self-adhesive overlap. This provides a continuous vapour barrier around the block.
What Sizes are Rockwool Blocks Available In?
Rockwool Blocks are available in thicknesses which the market is already used to with Phenolic and Hardwood Blocks. We are working with Rockwool to make sure Rockwool Blocks are available to suit the most common pipe sizes for each thickness of block:
How Do Rockwool Blocks Compare Against Phenolic and Hardwood Blocks?
Rockwool Blocks can be used as an alternative to Phenolic and Hardwood Blocks to provide an insulated pipe support. Below is a summary of how each block type compares.
Rockwool Blocks – Superior fire classification and high load bearing capability. They are robust and lightweight, suitable for handling on site. Note a thicker density block may be needed to deliver the same degree of insulation as Phenolic Blocks.
Phenolic Blocks – Lightweight and provide great insulation. Typically, they will be the lowest cost option. Their maximum temperature is 180°C, which is 70°C less than Rockwool Blocks. Note they can sustain some damage (degree of crushing) if handled roughly on site or during installation.
Hardwood Blocks – A traditional and very sturdy pipe support with very high load bearing capability. Note if supplying blocks from a sustainable wood source (FSC) they can be expensive. They also have a lower fire resistance than Phenolic or Rockwool Blocks.
How Can I Order Rockwool Blocks?
You can view and order our Rockwool Block range online here.
Alternatively, for further information on Rockwool Blocks or to order directly, contact our Sales Support team on: 01322 274226 or [email protected]
Related Products