FEBRUARY 2021
Off-Site Prefabrication and Workforce Availability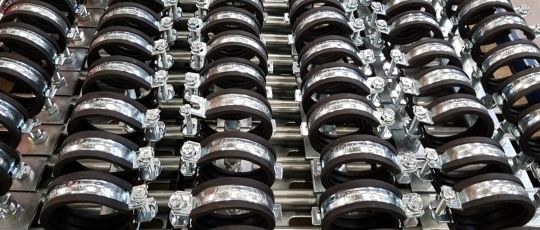 Do the benefits of off-site prefabrication mean that it can provide a potential solution to the workforce availability issues created by Covid-19 and Brexit.
Workforce Challenges Faced on Site
Construction faces two of the biggest challenges in recent history with a global pandemic and withdrawal from the European Union. Both have had an impact on how sites operate with issues for contractors related to costs and supply, as well as the availability of skilled workers on-site. It's no longer the case that if behind on a project a contractor can easily deploy additional skilled workers to help meet deadlines and avoid incurring penalties.
Covid-19
Covid-19 restrictions obviously affect the number of workers that can physically be on site at one time. Also abiding to the new required safety procedures can impact workers effectiveness when on site. Plus, there are additional concerns over workers continued availability due to the potential need to self-isolate, as highlighted in this Construction Enquirer article. Another recent study published by Safety Science found that the spread of Covid-19 could actually reduce the workforce on a construction project from between 30%-90%.
Brexit
The construction industry has traditionally relied heavily on foreign migrant labour for both skilled and non-skilled roles. So, with the UK already suffering from a skilled worker shortage and around 37% of London's construction workforce coming from EU countries, project costs could be driven up, if demand for labour outstrips supply. Now we're outside the EU and free movement has come to an end it's feared this could worsen with not all construction roles being covered by the new points-based immigration system introduced by the Trade and Cooperation Agreement.
Prefabrication a Potential Solution
Although not a solution to all the issues contractors face from Covid-19 and Brexit, off-site prefabrication could provide some answers to issues such as the lack of availability and restrictions of skilled workers on-site. As the required components for installation of building services, such as support brackets and frames can be prefabricated off-site and arrive on-site ready for immediate installation. The installation can then be done by fewer less skilled workers in a shorter period of time. Prefabrication can remove the need for cutting on-site which saves valuable space and reduces waste.
Any supplier will still have to follow the same Covid-19 procedures that contractors would when creating prefabricated components for installation on-site. However, by essentially handing this element of the project to a supplier, a contractor will benefit from a number of advantages, which are heightened by the current challenges being faced.
Benefits of Prefabrication
Fewer Skilled Workers Required – Using prefabricated brackets and frames typically requires less skilled labour during the installation process, whilst still achieving a high-quality finish. As rather than consisting of multiple smaller tasks the installation can be simplified to single larger prefabricated components. As well as helping to resolve the issue of worker availability, there can be a labour cost saving too.
Improve Efficiency and Save Time – By removing the need for workers to cut, shape and fix components on site, will allow time on-site to be maximised during the installation process. For example, when assembling on-site the shortage of just a single component could halt the installation.
Save Space – Reduce the need for designated areas for cutting or assembly of the components. This is even more important with Covid-19 restrictions putting space on-site at an even greater premium.
Less Waste – As the brackets and frames are prefabricated there is no waste from cut-off's or left-over fixings to dispose of. Reducing the space required for storage and helping to keep the area for installation tidy.
Reduced Health and Safety Risk – With less cutting or fabrication being undertaking on-site the health and safety risk can be minimised. Also reducing the need for repeated use of power tools can lower the amount of noise and dust on-site. As a result, the variety of PPE required could potentially decrease too.
Standardised Quality – With prefabrication the required brackets or frames are mass produced to the correct specifications reducing the possibility of errors or slight differences when being produced on site at different times by different workers.
Our Prefabrication Process
Off-site prefabrication is a growing trend with the vast majority of projects using at least some prefabricated components. We can cut and combine common stock products such as Channel, Studding, Pipe Supports and Rubber Mounts to create bespoke prefabricated support brackets and frames. Produced to your exact specifications these are ready for immediate installation, as soon as they are delivered to site. Below is the standard process we follow for prefabrication.
1. Understanding Your Prefabrication Requirements
We'll undertake an initial discussion of your exact requirements and if necessary, we can even carry out a site visit to offer advice on potential solutions for the installation of M&E and HVAC services.
2. Prefabrication Concept Agreed
Based on our discussions and any supporting information (such as drawings) a product specification will be agreed that includes: measurements, components and fixing method as well as the quantity required and any delivery considerations.
3. Prefabrication Prototype Created
Based on the agreed specification we will create a prototype to ensure the prefabricated bracket / frame is fit for purpose and establish a realistic timescale for manufacture. We will then provide you with an accurate quote and production proposal.
4. Production of Your Prefabricated Brackets or Frames
On accepting our quote and production proposal we will finalise a schedule for delivery. The manufacture of your prefabricated brackets will then commence and be monitored daily to ensure their quality and that production targets are met with minimum wastage.
5. Delivery of Your Prefabricated Brackets or Frames
We will securely package and deliver your completed prefabricated brackets / frames to the agreed timescale. Based on your requirements for offloading, storage and installation we can supply your completed prefabrication order in batches or a single delivery.
Interested in Prefabrication?
Contact our team for more details on how we can provide bespoke prefabricated solutions to meet your requirements: sales@fixmart.co.uk or 01322 274226.
View our previous articles covering prefabrication: