JUNE 2022
New Product Innovations
We see hundreds of new MEP and HVAC products from suppliers. Here we check out our selection of some of the best ones.
Our team review products from suppliers such as Armorgard, Flamco, StrutFoot, Fischer, Traffi, Spit and others.
We review the MEP and HVAC products for their potential benefits to customers including:
Improved site storage and transportation
Time, labour or cost saving
Safety on site, such as minimising dust
Sustainability and reduced carbon footprint
Ability to meet new regulations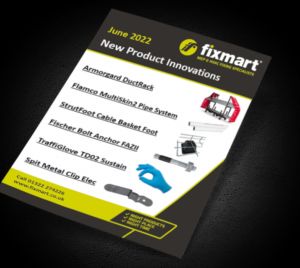 In the summary we provide details along with short videos to demonstrate the products in action!
The products featured are:
Armorgard DuctRack
Flamco MultiSkin2 Pipe System
StrutFoot Cable Basket Foot
Fischer Bolt Anchor FAZII
TraffiGlove TD02 Sustain
Spit Metal Clip Elec
Download or to request your copy contact our Sales Team on 01322 274226 or via [email protected]