JUNE 2022
Channel Support Systems and Fixings for MEP and HVAC Services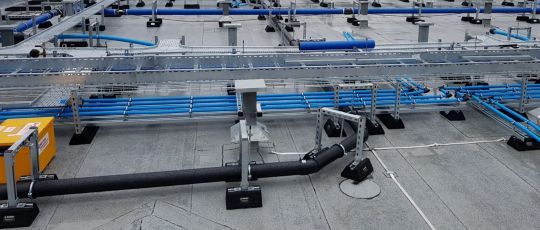 Channel support systems have an almost unlimited variety of applications due to their versatile nature and the wide variety of brackets and fixings available. The brackets and fixings allow for the simple connection of channel to create support systems in almost any configuration required.
The most common use, however, is to create a support framework for building services such as electrical cabling, mechanical pipework and ductwork for heating, ventilation and air-conditioning.
Single-tier support frames
A simple-single tier channel support system can be constructed to support cable containment, pipework, or ducting from ceilings or walls.
Multi-tier (trapeze) support frames
Multi-tier support frames are ideal if you wish to run several building services from the same installation ie placing electrical containment below ductwork. Or even adding a second tier of support from an existing tier, where weight load permits.
Rooftop support frame
​Channel, brackets and fixings can be combined with support feet to create either simple or complex rooftop frames for carrying a series of mechanical and electrical containment or mounting air handling units on flat roofs.
With a channel support framework constructed it is possible to attach all manner of fixings for the suspension or support of pipework, ducting or cable containment. In most cases the fixings are universal and compatible with Unistrut as well as other generic channel and bracketry systems.
Common Types of Channel, Brackets and Fixing Accessories
It is worth acknowledging that channel is also often commonly referred to as strut. Channel can be plain or slotted, with slotted channel having pre-drilled holes to allow for easy fixing. Channel comes in a wide range of lengths and profiles, but the most common profiles are 41x41mm and 41x21mm. Channel typically comes in 3m lengths although 6m lengths and pre-cut channel lengths are also available. Pre-cut channel is a handy option to save time on site as you can order it pre-cut to the length required for your project. Back to back channel which as the name suggests is two lengths of channel joined back to back, is commonly used to create trapeze supports.
Brackets come in many types and sizes such as splice plates, angle brackets, z brackets, u brackets, flat brackets, beam clamps, bracing brackets amongst others. From the simple to the complex the range of brackets on offer allow for an installer to assemble almost any channel support system they can conceive.
Channel nuts are specially designed to sit in the channel recess and used to fasten either studding or bolts with hex nuts and square plates.
Similar to a regular channel nut but with a spring attached on the reverse of the nut which, when inserted into the channel recess holds the channel nut in position until you are ready to fix it into place.
Pre-assembled channel nut, and washer which are held together with a plastic insert to save time on installation. Similar to a spring channel nut, the pre-assembled channel nut and washer are held in position ready to fix into place. Having the components combined can really save time when installing, especially if working at height.
Square plates are a specific type of washer for use with channel support systems. They fit across the open side of the channel and when bolted to the nut give greater strength, allowing for other items to be bolted on.
Used to fix to channel, hex bolts come in various head sizes and lengths, with hex nuts available to suit the various bolt sizes. Often hex bolts are used with channel although studding is equally effective.
One of the most common fixings to be used with channel for supporting building services is studding. Studding and channel can be used to create simple suspended frames for runs of pipework, cable containment and ducting. Studding lengths can be cut on site as required or ordered in specific pre-cut stud sizes. In either case, the studding is threaded into the channel nut or spring nut, then with a square plate, washer, and hex nut is tightened to provide a solid fixing. Other items can then be attached to the studding such as pipe clips, duct clamps or cable tray.
Studding adaptors and connectors are also available to allow easy connection of additional studding lengths.
Channel sockets are designed with a narrow profile to fit inside the channel recess, to quickly drive hex bolts and nuts in order to provide a fixing.
Fixings that can be Used with Channel Supports
There are a number of specialised attachments designed specifically for use with channel or studding for the quick and easy installation of M&E and HVAC building services such as:
Pipe Supports
Pipe Clips are available to suit common pipe sizes and types such as steel, copper and PVC pipes. They come with a tapped boss to allow for easy connection to a hex bolt or studding for pipe installation and management. Select from a range of pipe clips such as unlined, black rubber lined, green rubber lined, hinged or heavy-duty depending on the pipes being installed.
Pipe clamps, with specifically designed lugs to match 41mm channel, can quickly and easily be secured directly into channel without additional tools. They make the job of attaching pipework to support systems much simpler. The two pieces simply clamp onto the pipe using a threaded adjusting bolt to provide a good fit.
Channel clips are an extremely simple fixing to effortlessly fit onto channel with a 41mm profile width. Made from a strong lightweight Polyamide Alloy their one-piece design helps absorb shock and vibration. They are ideal for use with plumbing, electrical, air conditioning and refrigeration pipework.
Cushion pipe clamps can be quickly mounted into channel and are ideal for multiple runs of small copper pipes. They are similar to channel pipe clamps but come with a cushioned insulated insert which is particularly needed for things like refrigerant tubes, or any pipework which need to be insulated, or protected from vibration.
Ductwork Supports
Spiral Duct Clamps are available to suit common duct sizes. They come with a tapped boss to allow for easy connection to a hex bolt or studding. The clamps include a noise insulating rubber lining which is formed around a steel band to prevent it sliding off when the spiral is slid through the clamp.
Electrical Containment Supports
Studding Hangers allow for the easy suspension of 75mm wide cable tray from M4-M12 studding. The hangers simply clip onto the studding length providing a simple support that the cable tray can be fixed to.
Overhead tray hangers are a simple bracket for supporting lengths of cable tray from 75mm to 225mm wide. The brackets are simple to fix to a studding length using a hex nut and washer.
Marco Fast Fix Universal Strut Clip can be used to easily attach wire cable basket to channel. The strut clip simply clamps the cable basket to the channel and can be secured in place with one turn of a screwdriver for speedy installation.
Support Feet for Channel
Roof top channel support systems require feet to form the base of the channel frame work. Whether constructing H frames or more complex configurations.
Channel lengths simply slot into the feet to provide a stable framework protecting the rooftop surface. Often the feet will also offer some kind of vibration and noise absorption too.
Commonly used alongside channel support frames for runs of pipework and cable tray as well as supporting condenser units and other equipment.
If you have any queries on creating channel support systems, for supporting pipework, runs of cables or ductwork contact our team on 01322 274226 or [email protected]. We can also provide advice on connecting your channel supports to concrete or metal decking using concrete screws, wedge anchors, through bolts, wedge nuts or specialist Lindapter decking fixings.
Related Products