AUGUST 2018
Select the Right Screws with this Quick Guide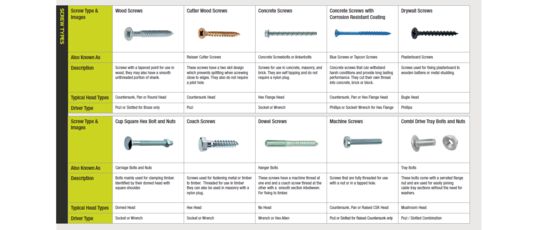 There are many types of screws and bolts available with multiple head types and finishes depending upon their application. Check out our handy guide.
We've created a handy guide of common types of screws and bolts as well as the main head and driver types that can be found.
The guide includes an image, description, alternative names, head types and driver types for common screws and bolts to help you select the right one for your application.
Whether you're looking for 'types of wood screws', 'the best screws for concrete' or 'if coach screws into concrete' check out the guide and summary below. For expert advice contact us on 01322 274226 or [email protected].
Screw and Bolt Types
Wood screws have a tapered point for use in wood, they may also have a smooth unthreaded portion of shank. There are many types of wood screws with different heads and finishes to be used for specific applications.
Cutter wood screws have a two slot design which prevents splitting when screwing close to edges. They also do not require a pilot hole.
Concrete screws for use in concrete, masonry, and brick. They are self tapping and do not require a nylon plug. These are the best screws for concrete, in order to provide a secure fixing.
These concrete screws that can withstand harsh conditions and provide long lasting performance. Self tapping concrete screws cut their own thread into concrete, brick or block. Also known as blue screws, due to their coating.
Drywall screws used for fixing plasterboard to wooden battens or metal studding. These can be single screws or collated for quick installation.
Cup square hex bolts and nuts are mainly used for clamping timber. Identified by their domed head with square shoulder.
Coach screws are used for fastening metal or timber to timber. Threaded for use in timber coach screws can also be used in masonry with a nylon plug.
Dowel screws have a machine thread at one end and a coach screw thread at the other with a smooth section inbetween. For fixing to timber.
Machine screws that are fully threaded for use with a nut or in a tapped hole.
Combi drive bolts come with a serrated flange nut and are used for easily joining cable tray sections without the need for washers.
Roofing bolts are ideal for joining metal to metal and include a cross slotted mushroom head with a square nut.
Self tapping screws are fully threaded and designed to create their own mating thread when fitted saving time (with no holes to tap). Self tapping screws also provide resistance to vibration due to the closeness of the thread engagement. Typically used for joining metal to metal.
Self drilling screws with a drill point that self taps and removes excess swarf. Self drilling screws can also be reffered to as Tek screws. Used mainly for sheet metal and cladding applications.
Self-Drilling Screws with Bonded Washer
These screws have a bonded washer which provides a weather tight seal. For roofing and cladding applications.
Hex bolts are a partially threaded fastener for use with a nut or in a tapped hole.
Hex set bolts are a fully threaded fastener for use with nut or in a tapped hole.
Socket screws have an internal hex drive, ideal for when a lack of space means it's not practical to use externally wrenched fasteners.
Tamper resistant screws with a 6 lobe pin recess. They require a specific matching driver to remove. Available as machine or self tapping screws.
Non removeable screws have a driver recess designed not to turn in an anti-clockwise direction, so they can't be loosened.
Grub screws, these machine screws have no head allowing them to be fully driven into threaded holes.
For further screw and bolt details including head and driver types view the full guide.
Alternatively to discuss your specific fixing requirements contact us on [email protected] or 01322 274226.