JUNE 2022
The benefits of using RapidRail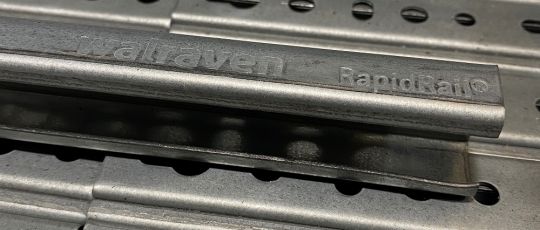 Check out the benefits of RapidRail® including easy handling plus reduced installation times and labour costs.
RapidRail® is a lightweight alternative to traditional 41x41 channel (also known as strut), that's easier and quicker to install. RapidRail® pre-assembled fixings also allow for fast MEP and HVAC installations that are simple to adjust.
For many standard installations of pipework, ductwork and cable containment traditional 41x41 channel is not actually required as the weight of these installations can often be supported by a lighter channel, such as RapidRail®. Using a lighter channel can offer several benefits.
Benefits of Using RapidRail®
Lighter channel is easier to handle and install, especially when working at height / overhead. It also reduces the risk of injury or accidents when working in tight spaces.
Easier to carry, store and transport, as well as being lighter RapidRail® is also supplied in shorter 2m lengths (compared to 3m and 6m for traditional channel).
RapidRail® uses approx. 1.7kg less steel per metre (compared to traditional 41x41 channel) which is better for the environment and a greater consideration during the current steel crisis.
RapidRail® has also been designed with quicker installation in mind, offering some simple but useful features:
Continuous perforation, with pre-drilled holes to allow for easy M8 and M10 fixings.
Handy graduated measurement scale on one side for easy cutting to size.
A range of profiles such as WM15 with a unique perforation that allows for hanging on both sides.
As well as being lightweight and easier to handle to speed up installation, RapidRail® also has a range of fast-fix preassembled accessories designed to make installation even simpler and faster.
RapidRail® has been given a RAL quality mark which means it has been independently tested and certified as a system to guarantee quality, reliability, and safety in construction.
RapidRail® Pre-assembled Fast-Fix Accessories
Due to the lightweight nature of RapidRail® and the fast-fit accessories available, it has been proven to save up to 40% on installation times, meaning that it can reduce labour costs and help to meet tight deadlines. The key to the time saving is the fast-fix pre-assembled accessories, as instead of using lose bolts, nuts and washers the pre-assembled Slide Nut with Washer and Hammerfix Stud Nut are simple to just push in and twist into place. They are also easy to adjust and slide into the required position before tightening to provide a solid fixing.
For example, a Hammerfix Stud Nut can be used to install a pipe clamp in just 20 seconds, see how in this short video:
Related Products
Why Use RapidRail®
With the current steel crisis and the rising cost of standard 41x41 channel we are seeing an increased demand for alternatives which use less steel, such as RapidRail®. Cost and ease of transportation is also a factor with rising fuel prices.
This coupled with easy handling, quicker installation, plus the additional safety and storage benefits, RapidRail® is well worth considering when next installing pipework, ductwork or cable containment. For example, RapidRail® is far easier to use than traditional 41x41 channel when working overhead to safely create and install trapeze hangers for suspending pipes, ducting or cables. For further reading check out this useful blog post by Walraven on 'How to make faster, more cost-effective trapeze hangers'.
You can view our RapidRail® range here, which includes pre-cut lengths. Alternatively for further information contact our Sales team on 01322 274226 or via [email protected].