FEBRUARY 2016
Train The Trainer Face Fit Tests Are Available
Carry out your own qualitative respiratory fit testing for staff in order to comply with COSHH regulations and ACoP.
Training in the proper use and care of respirators has been mandatory in the Control of Substances Hazardous to Health (COSHH) regulations since 1989. The 2002 revision of the COSHH regulations and the Approved Code of Practice (ACoP) now requires that fit testing of Respiratory Protective Equipment (RPE) be carried out.
If you use RPE with a tight-fitting face piece, you should make sure that each wearer undergoes a fit test, with many main contractors now demanding this from their sub contractors. After all if the RPE does not fit, it will not protect the wearer.
Train the Trainer Course Includes:
Conducted by trainers that are Fit2Fit accredited, recognised by HSE and BSIF.
Lasts for 2-3 hours.
For up to 8 delegates.
Includes a Face Fit Test Kit (RRP £130) which should allow for Face Fit Testing of 30-40 staff.
Upon completion delegates are certified to conduct Face Fit Tests (for up to 5 years), with the Certificate providing a record such as required by HSE.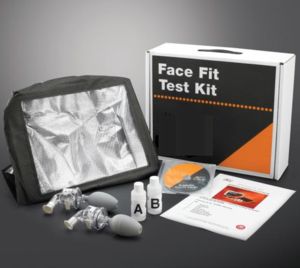 The Face Fit Test Kit which you receive as part of the Training includes:
Robust hood
Bitrix bitter tasting solution (Sensitivity and Test)
2 x nebulisers with clear plastic housing, nozzle and rubber bulb
Complete instructions and training DVD
Compact and sturdy case
Replacement parts of the kit are available.
Face Fit Test Training
The training itself covers:
Introduction
The History of Respiratory Protective Equipment (RPE)
Routes to Entry
Types of RPE
Types of Face Fit Testing
The Principles of Face Fit Testing
Correct use and donning of Disposable Respirators
Fit Test Requirements
The Implications of Fit Testing
BSIF / HSE Fit2Fit Accreditation Scheme
HSE 0C282/28 Guidance
Multiple Choice Test
An Actual Face Fit Test Involves:
The sensitivity Test
Donning the RPE
The test (seven breathing exercises: normal, head side to side, head forward and back, talking, bowing gently, normal and break seal test. If the subject tastes the bitterness prior to the break seal test then the face fit test is a fail, otherwise its a pass. The break seal test ensures the the subject can actually taste the solution and helps validate the test.)
Record keeping (ie trainer & subject must sign the records)
Once successfully tested Face Fit Test ID Cards are also available and allow individuals to prove they have passed a face fit test for a specific mask. The card includes: Trainee's Name, Mask Type, Trainer's Name and Date.
Those who pass the Face Fit Test and who hold a card will be seen to be certified for 5 years for the particular make of mask tested. However if their facial features change, such as through significant weight loss / gain or substantial dental treatment they will will require to be retested.
Please contact a member of our Sales team on 01322 274226 or email [email protected] for more details and to book a date for your Training.