NOVEMBER 2020
Wedge nuts provide the simplest fixing solution for metal decking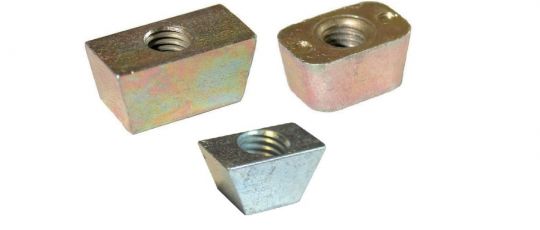 Wedge nuts will often provide the simplest solution for suspending HVAC and M&E building services from the underside of composite steel decking systems.
Steel decking systems are produced in many different types by a number of manufacturers but the one thing they have in common is that their profile has a dovetail recess (v channel in the decking).
This recess allows for a fixing such as a specific Lindapter decking fixing or wedge nut to be inserted by hand into the v channel rotated 90° and wedged into position to provide a secure fixing for threaded rod or a bolt. Wedge nuts have a tapped hole and typically will offer a range of thread sizes from M6 up to a maximum of M12.
Wedge nuts get their name from the way they wedge against the sides of the v channel and are also known as v nuts or vee nuts after the v channel that they fit into.
Each type of steel decking has different dimensions for their v channel and will have distinct profiles and pattern markings to help contractors identify the type of metal decking used and the fixing required to suit. Wedge nuts also therefore come in various sizes to suit the specific v channel of the most common decking types. Below is a brief summary of some common wedge nuts, their dimensions, thread and suitable decking types: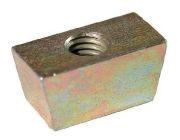 Width Top

Width Bottom

Height

Thread Sizes

Suitable Steel Decking Types

24mm

19mm

12mm

M6-M12

CMF MetFlor 55
Kingspan Multideck 50-V3
SMD R51
Tata Steel Comflor 51
Richard Lees Superib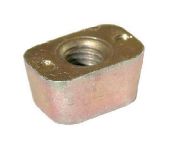 Width Top

Width Bottom

Height

Thread Sizes

Suitable Steel Decking Types

21mm

17mm

10mm

M6-M10

Richard Lees Superib
Richard Lees Ribdeck 60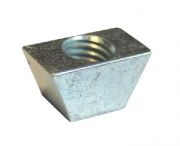 Width Top

Width Bottom

Height

Thread Sizes

Suitable Steel Decking Types

18mm

10mm

9mm

M6 & M8

Tata Steel ComFlor 60
Tata Steel ComFlor 80
To help identify between the three main sizes of wedge nuts the standard and mini-mini wedge nuts both have pointed corners and the medium sized mini wedge nut has round corners. The reason behind this is that if a contractor comes across a type of wedge nut that has already been used with the decking on site, by having the middle version with round corners and the size difference between the other two, it makes it straight forward for a supplier to advise the contractor of the type of wedge nut that they need.
For further details on how to identify types of decking and the relevant wedge nut or alternative decking fixing to suit you can download our handy Decking Identification guide here.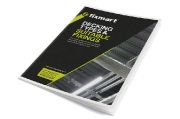 Specialist variations of wedge nut are also on the market such as Uni-Wedge BN2. The Uni-wedge provides a fixing in the same way as a wedge nut by wedging into the steel decking's v channel. However, with a Uni-wedge there are three thread holes (M6, M8 and M10) included rather than just one, in order to provide greater flexibility. Also, once Uni-Wedges have been slotted into the v channel they are secured in place by the incorporated grub screw using a 4mm allen key.
In addition to wedge nuts, manufacturers such as Lindapter and Walraven have produced their own range of decking fixings to suit specific metal decking systems in order to suspend cables, pipework, ductwork and other building services. So, if contractors are in any doubt, they should contact a decking fixing manufacturer such as Lindapter or suppliers like ourselves for advice. Contact Us.
Useful Links:
View our range of Decking Fixings
Related Products