184 Shepherds Bush Road
The new European headquarters of customer science company, Dunnhumby, is a Grade II listed building and former Ford motor company showroom / garage. McLaren was appointed to carry out the conversion of 184 Shepherd's Bush Road and the construction of three additional floors and new domed glass roof.​​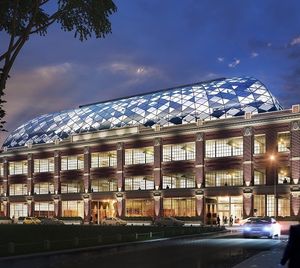 Further Details:
Six storey, 115,000 sq ft office space.
Modern workspace that reflects Dunnhumby's culture.
The design successfully completes the top half of a building that was left unfinished at the onset of the First World War.
The development will include a £200,000 investment in the surrounding Brook Green area and provide airy views of Little Brook Green directly opposite.
The Role of Fixmart
Fixmart were awarded the contract for the supply of all M&E Support Systems and Containment for the Electrical, Mechanical and HVAC contractors for this elegant and imaginative re-development.