MAY 2022
Colindale Gardens
Fixmart has been supporting MEP and HVAC contractors working on Colindale Gardens, one of the largest residential developments currently underway in the capital outside of Central London.
Colindale Gardens is a unique development in North West London, offering luxury homes surrounded by landscaped gardens and 4 acres of parks.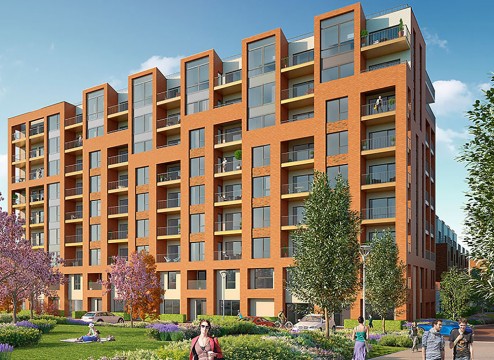 How Fixmart Provided Support:
Fixmart have helped on multiple aspects of this development supplying numerous contractors with various fixings, anchors and pipe supports. However, one of our key contributions to the project was when both Kingspan Phenolic and Rockwool pipe support blocks were introduced into the project specifications. As our extensive stocks of both products meant that we were able to supply contractors quickly from a wide range of stock sizes, which enabled contractors to continue working to schedule.
So far, we have provided:
•
Over 2,700 Rockwool Blocks
•
More than 600 Phenolic Blocks
•
408 lengths of Pipe Insulation
•
Over 7,200 Pipe Clips to suit
More on the Colindale Gardens Project:
Colindale Gardens is a mixed-use development that will include private and public residential units, a school, and commercial space for new shops, restaurants, and health centre. The ethos of the project was centred around creating a green and open environment, a key part of any modern-day development, as the city turns its attention towards undertaking sustainable developments.
Key facts:
•
Development costs are estimated at £1billion
•
Completion of the first homes was Summer 2021
•
Project Period 23/02/2016 - 01/07/2027
•
Principle Contractor: Redrow Homes London