MAY 2022
South Quay Plaza
Fixmart have been a main-stay supplier supporting MEP & HVAC contractors on the docklands South Quay Plaza development for over five years.
The South Quay Plaza development is playing a pivotal role in the redevelopment and revitalising of the historic docklands area.
How Fixmart Provided Support: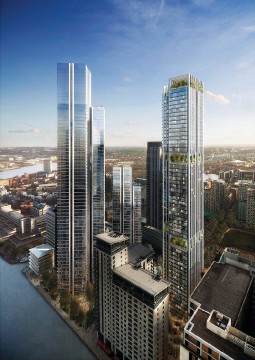 Being one of Berkeley Homes Group's main suppliers we are very familiar with the working practices and requirements across their developments. This has meant we have been a regular presence on site supporting MEP & HVAC contractors with fixing solutions from day one. With the project now being in its sixth year and legislation constantly evolving, Fixmart have been instrumental in making sure contractors keep up to date with changing fixing specifications and ensuring we can meet their requirements with the latest compliant fixings.
So far, we have provided:
•
Over 250 deliveries to site for various customers
•
Over 15 site support visits
More on the South Quay Plaza Project:
Phase one sees the construction of South Quay Plaza's first and tallest tower 'Valiant' which began in 2016, finishing in 2020 with work on the interior concluded in 2022. Phase 2 will oversee the construction of the 2nd tallest tower 'Harcourt Gardens' which is scheduled to be completed in 2024. Phase 3 includes the demolition of the current smallest tower on the site 'Berwick' along with the refurbishment of an existing office block.
Key Facts:
•
1300 new flats across 3 buildings: Peaking at 68 storeys high
•
Development costs are estimated at £1billion
•
Phase one is due for completion in 2022, with all phases projected to be complete by 2025
•
Principle Contractor: Berkeley Homes (SQP) Ltd